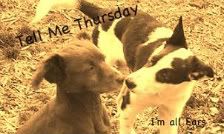 Laura at Crooks and Crazies has this Tell Me Thursday thing and since I have nothing else for the blog because I think this is going to be both fun and informative, here goes my mine.
(1) How did you get into border collies (or whatever your dogs of choice are)? What started it all?
The year was 1999. It was a balmy spring ... wait, what? Oh, the short version. OK, my boyfriend broke up with me and I was so traumatized that I decided to make a radical change in my life. The choices were cut my hair short or adopt a dog. I like long hair. Therefore, I went to my local SPCA and adopted Bear, aka The Best Dog Ever.
Bear sent me down the path of dog sports and Being A Crazy Dog Lady. After a few years, I decided Bear needed a friend and I sought to adopt a rescue Aussie. There weren't many in rescue at the time, so I expanded the search to include rescue border collies. Enter ... The Wickens.
While she was not without her challenges, she and Bear became fast friends, and were inseparable for the next 8 years.
It was around this time that my obsession with Photoshop began too.
Because Wick is a border collie, I was told she probably would like to work sheep. I mean what border collie wouldn't? The answer - Wick! She had no interest in working sheep and 9+ years later, still doesn't. But Bear liked it, so we started that. After years (literally) of trying to get my dog to lie down, stop, or even acknowledge me on the field, I admitted that he probably wasn't going to cut it as a sheep dog. I really liked working stock though. Hmmm ...
I had an opportunity to buy a trained dog who was closely related to many dogs that I admired. His name was Lou, and he became my partner in this crazy journey of One Girl and Her Dog. Lou has carried me through the past 5 years of trialing and has shown me a whole new world. He also is really lazy and likes to be lifted onto the bed.
Oh, and this is Rex. He's insane.

(2) How many dogs do you have? All dog math variations accepted.
Three. One girl dog, two boy dogs. I like this number. They fit in one ex-pen. I can walk 3 while drinking a coffee. They fit nicely in a van. Also, it's the max number you're allowed in my city and I'm kind of a law and order buff.
(3) What do you do for a day job?
I'm a project manager at a technology company. This involves a set of complex tasks and skills. At a very high level, a project manager:
Makes a list of things to do
Identifies the resource responsible for each task
Identifies the date that the task should end
Assigns blame when the deadline comes and goes. This may involve naming and shaming not just the resource but his/her entire business unit. I really enjoy my work and feel I was born to do this.
(4) What questions would you like to answer (or ask)?
I'm not sure what this means. Maybe that's the question I would like to ask!
(5) What was for dinner last night?
Let's see ... I guess it could be described as rotini with a ragu sauce. The sauce was a concatenation of the previous day's pulled pork and a jar of Newman's Own Marinara sauce. And then I had a Diet Dr Pepper and three popsicles. 'Cause it's summer.