Here we go again!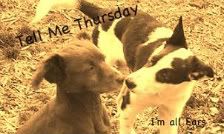 1. Who is your newest dog? Where is he/she from, and why did you choose this particular dog/breeding?
My newest dog is Rex, aka The Rexxon Valdez (hardly a new acquisition, he's 4 years old and been with me for a year and a half). This little guy came from a friend in Evansburg, Alberta. I chose him because said friend told me he was a really good dog. :-) I also wanted something from these lines - tough, Western Canadian stock dogs with perhaps more heart than sense. His mother, Trax, goes back to Elvin Kopp dogs on the top, and to Ken MacKenzie's good Rope dog on the bottom. His father, Tweed, was out of Kelly (mother to Scott Glen's Pleat and Tala) by Peter Gonnet's Craig. It is quite probable that the crazy goes back to the sire's side.
2. What traits drew you to this dog or breeding?
I wanted a dog with plenty of come forward and that's what I've got! I don't know that I've ever blown a walk-up whistle to this dog. That he is a tri-colour is a bonus - I actually bought him sight unseen. If only his ears were uppy, he would be perfect!
3. What's on your feet right now?
Ah, my beloved Fit Flops! They are my lay-about, go-to choice for the summer. They are also hideous to look at, and shouldn't leave the house (which is fine because I'm on the couch).
4. What are you reading right now?
I've started The Household Guide to Dying, by Debra Adelaide. It's pretty funny for a book about a dying woman making lists to leave to her husband and two daughters. It's set in Australia, and thus there are charming colloquialisms unique to the antipodes - love that! Oh, and it was on sale at Chapters, which is the primary criteria for my book selection.
I recently finished Mennonite in a Little Black Dress by Rhonda Janzen. This seriously is one of the funniest books I've read. Think of all of your childhood angst rooted in your families' weirdness. Remember when your friends would come over and your mom would serve something vaguely ethnic? Remember your embarrassment? Her stories will put yours to shame!
5. What upcoming trials are you looking forward to? If you don't trial dogs I'll take whatever activity that you're looking forward to.
Next week, we leave for the Western Canadian/CBCA Championships near Cranbrook, BC. I'll be running Lou in what likely will be his last time at this event. At 9, I'm starting to see him slowing down, and I don't know that I'm gonna keep asking him to go 600+ yards on a gather. Lou has other opinions on this, of course, so who knows, maybe he'll run til he's in his teens.

My goal for this trial is to enjoy every moment of it. Canadian handlers are a fairly unique bunch, which makes for a hilarious handler's tent. There are folks that I see only at big events like this, and I'm much looking forward to the gossipping and wagering (oh yes, we bet on stuff). But mostly, I want to do right by Lou, a dog who has literally carried me since I stepped to the post in the spring of 2006. I know he doesn't read the scoreboard, or lay awake at night re-living the shame of a late whistle, but I would like to have 2 runs where I'm in the moment, focussed, and a holding up my end of the partnership. I don't know what I'm going to wear though. Amanda always has such nice outfits. She sets the bar high.